About OE Construction Corp
EXPERIENCED, RELIABLE, ON TIME, ON BUDGET
The entire team at OE Construction Corporation brings experience and accountability to every project – big or small. Our team is professional, knowledgeable and experienced in all types of excavation and underground utility work. We bring over 50 years of excavation/management experience to every job site.
Fully licensed and insured.
Our Mission
To do the job right. The company is focused on every facet and detail of a project. From the initial project evaluation to the job estimate preparation and bidding. The scope of work and planning meetings to the excavation and earthmoving production. And ultimately, the completed project, on time and on budget.
Our Guarantee
To do the job right. Weekly safety meetings, safety planning, safety documentation and safety training are all a part of the company philosophy of making sure everyone is a "Competent Person" on the job site. Our equipment operators are experienced, competent and reliable. Our field supervision is designed to make sure each part of the project is completed safely and to plan. The office staff makes sure the paperwork is produced on time and correctly, whether it's Certificates of Insurance, job tickets or project billings.
Experienced, Latest Technology, Accurate
OE Maximizes The Latest Technology – Both in the OFFICE and the FIELD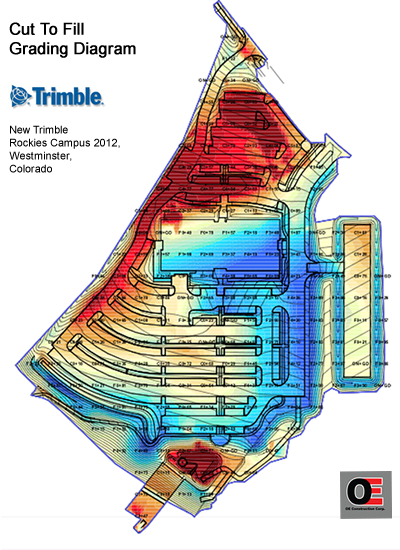 Starting with skillful digitizing OE builds highly accurate project proposals. Our accuracy translates to saving of time and money for your project.
The example to the right is Trimble's new Rockies Corporate Office which broke ground mid-May, 2012. OE is providing all of the site work manpower and equipment for earthwork and underground utility work, using Trimble Connected Site products to automate the site work machinery.
OE Construction utilizes advanced take-off software for civil construction analysis, estimating and project management. Using an integrated on-screen takeoff process, we produce 3D models and plans to ensure our bids are accurate and precise. Earthwork quantities are reported for fills, cuts, over excavation, foundations, curb and gutter, road work and overall site development.
OE's skill in utilizing the full power of the software is key to getting the most out of the today's technology. OE realizes the enhanced value we can bring to your job site with accurate data and good communication with field production staff and machinery.
Let us show you how we can bring enhanced value to your project, contact the OE estimating department to find out more.
GPS Automation of Field Machines Saves Time and Money
OE Utilizes Positioning Technologies, such as GPS, Lasers and Optics
Rework is Minimized When the Office, Field and Equipment are ALL Connected
OE has experience with the Trimble® Grade Control Systems. Trimble Connected Machine solution helps OE manage equipment and understand how the machines are operating in the field. Our machines can collect as-built measurement data for office delivery, and receive GNSS corrections using the Internet. A 3D design created in the office can be sent to the machine operator for faster, more precise grading and earthmoving. Additionally, the machine can be used for volume measurements, so expensive measurements by grade checkers occur less frequently. Drive time and rework are also minimized, as both the office and machines in the field are kept up-to-date with the latest information.
OE Construction trains and supports the STOP™ (Safety Training Observation Program) program on every job site.

Weekly safety meetings, classroom and on-the-job OSHA training, job site safety audits, weekly safety meetings, we are committed to SAFE job sites at all times, on all job sites, no matter what.
The OE EMR rating is .84 and we are working on improving our rating even more!
Our safety program and job site implementation is unsurpassed – we "Walk the Talk" – SAFETY FIRST – NO MATTER WHAT!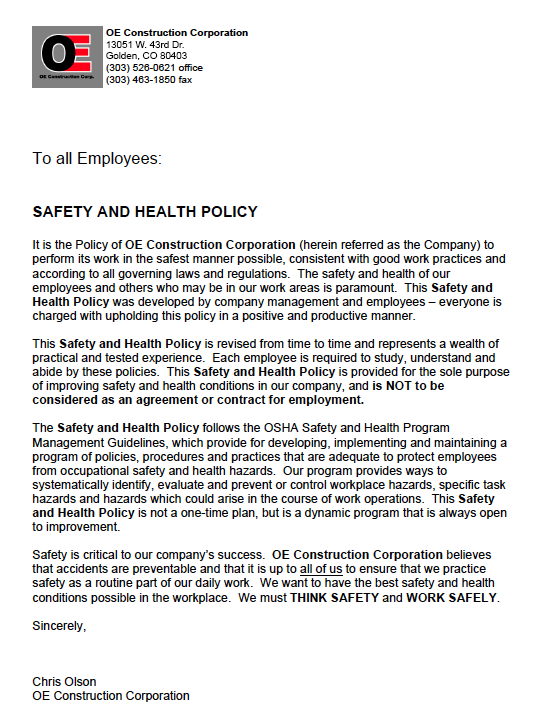 Alliance Residential Company
Bateman Hall
Bleeker & Vigassa
Bouma Construction
Brigham Oil & Gas
Brinkmann Constructors
Bryan Construction
Buckhorn Energy
Calcon Constructors
Catamount Constructors
CFC Construction
Chesapeake Energy
Continental Resources
City of Arvada
City of Black Hawk
Colorado Structures, Inc.
David J. Erb & Company
DCB Construction
EGC Services
Engineered Systems Inc.
FCI Constructors
GH Phipps Construction
Golden Triangle Construction
Hall-Irwin Corporation
Haselden Construction
Hoar Construction
Holland Construction
Hyder Construction
Interlock Construction
JE Dunn
JHL Construction
Kahn Construciton
Kellogg, Brown and Root
Key Construction
Kiewit Building Group
Kirsche Construction
Mark Young Construciton
Martines Palmeiro Construction
Maxwell Builders
McBride Construction
MDH Builders
Merritt General Contractors
Meyers Carlisle Leapley
Milender White Construction
MW Builders
Nestle Purina
New Vision Builders
Oakland Construction
Opus
Orr Construction
OXY USA, Inc.
Parker Water & Sanitation
Parkway Construction
Pinkard Construction
Real Builders, Inc.
Rhinotrax Construction
Roche Constructors
Saunders Construction
Shaw Builders
Spectrum General Constractors
Strad Energy Services
Tee Pee Construction
The Douglas Company
The Hanover Company
The Weitz Company
Valley Crest Landscaping
W.M. Brown
White Construction
Whiting Oil & Gas
XTO Energy